My fondness for movie musicals can be traced back to two I saw during my kidhood: "The Music Man," with Robert Preston and Shirley Jones, and "Bye Bye Birdie," with Ann-Margret and Ann-Margret.
Let me put this on the table right now: "Bye Bye Birdie" came out in 1963, which predates my awareness of film by quite a bit. That makes Ann-Margret quite a bit older — quite a bit — than I am.
Still, years later (years, I said!), when I first saw her poured into a pair of pink tights in Got a Lot of Livin' (if you're into funky dance moves, that's worth a click) … well, whew. Later, when I watched Preston slipping across the silver screen in 1962's "Music Man" — Ya Got Trouble, man — I think I was officially hooked on musicals. So smooth. Effortless. Cool as hell.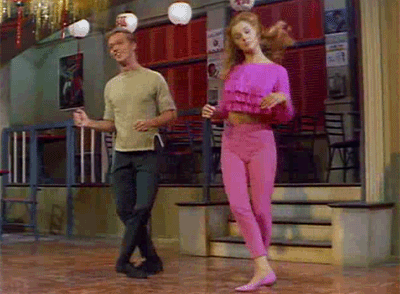 Some people, I know, look at musicals and simply don't get it. That willing suspension of disbelief that must be carried into just about every movie simply isn't there for musicals for a lot of people. These unenlightened buy into the Force and a galaxy far far away, or Superman, or Matt Damon as a kickass former CIA killer — hell, I believe in Bourne — but, for whatever reason, they're not biting on a song and dance number in the middle of their movie.
Whatever. I can suspend my disbelief. Willingly. I do it all the time. I often find it necessary. Especially in real life.
So it is that one night a couple decades ago, trying to impress a girlfriend, I invited her to my townhouse to watch "The Music Man." I wanted to show her that my moviegoing tastes ranged far from thrillers and space odysseys. I wanted to show her I had an appreciation of a good, rousing song, a good dance, something out of the ordinary. I wanted to show her I had a little class.
Yeah, that didn't go over so well.
(Later, when I asked her if I should buy a white leather couch for my bachelor pad, and told her I was considering getting a flashy sea green two-door convertible, I think she may have started wondering a little about me. Likes musicals? Digs white leather? Wants to drive around in Barbie's dream car?)
("Does this guy have some tendencies I should know about?")
(She married me anyway.)
***
The two of us, a couple then, finally settled on a black leather living room set, which we still have. I never did buy a convertible. But my adoration of musicals is unshaken. I'm still willfully suspending my disbelief.
Last year, right there on that same couch, I roped Mary Jo into watching another musical, 2016's "La La Land," starring Emma Stone and Ryan Gosling. I loved it. She didn't, particularly. But, unlike her try at "The Music Man," at least she didn't fall to sleep. At least I don't think she did.
Stone is absolutely shining in the film. I mean shining. She is not — and, sorry, 'cause I know that I'm far from the first to say this — a conventional beauty. She certainly is no Ann-Margret in pink tights.
But in "La La Land," in unforgiving closeups, funny and heart-wrenching scenes with Gosling and movie-stealing songs, she is a classic Hollywood star. She is utterly, totally beautiful and, more than that, believable, even if you're of the disbelieving bent.
She won an Oscar for best actress for her portrayal of budding actress Mia, probably off of this one tryout scene:
For those who don't like music in their movies, there's this real and funny bit with Gosling, who plays her boyfriend and fellow dreamer. Look at Stone's face. Watch her play off Gosling (especially when he unexpectedly, hilariously, calls her a name). Awesome.
Every musical has its signature song. This one — criticized by some who preferred more polished singer/dancer/Broadway performer types — is my favorite. In it, Mia and Sebastian are still in their goofy, thoroughly modern courtship phase.
Credit for this movie goes, as much as to Stone and a very good Gosling, to lyricists Benj Pasek and Justin Paul. Just fantastic. From "The Fools Who Dream":
So bring on the rebels
The ripples from pebbles
The painters, and poets, and plays

And here's to the fools who dream
Crazy as they may seem
Here's to the hearts that break
Here's to the mess we make
La La Land has been credited for spurring interest in more movie musicals. A couple of classic Disney films already are being made into live-action songfests: Beyoncé and Donald Glover are to star in "The Lion King." Will Smith is taking on "Aladdin." Steven Spielberg, it says in that Playbill piece (and elsewhere), is re-doing "West Side Story," the story of immigrants trying to make it in America. Perfect timing.
At some point, I may reach my personal musical limit. But it may take a while. A little singing, a little dancing, some pure escapism? That, disbelievers, is music to my ears.